Reykjanes peninsula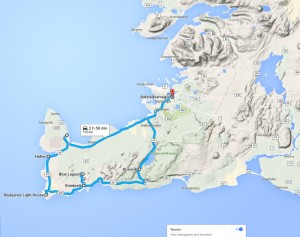 (http://www NULL.goldencircletaxi NULL.com/wp-content/uploads/2013/02/mapreykjanes NULL.jpg)The Reykjanes peninsula is marked by active volcanoes and enormous lava fields.  Hot springs and sulphur springs are near the incredible lake Kleifarvatn.  We visit small and nice fishing towns as well.  The "Leif Lucky" bridge is in our way which spans the Álftagjá rift valley, where you travel between the American and Euro-Asian tectonic plates in few steps!  The coastline and lighthouse near Reykjanestá is spectacular and worth visit.  What you get in this tour is a landscape like in another planet, lot of fresh air, warm steam from hot springs and lot of surprises.
This tour is available with or without visit to  Blue Lagoon
Price:
1-4 passengers w.out Blue Lagoon: ISK 37,000. W. Blue Lagoon 48,000

5-8 passengers w.out Blue Lagoon: ISK 48,000. W. Blue Lagoon 59,000
Duration: w.out Blue Lagoon: 3-4 hours.  W. Blue Lagoon 4-6 hours

Distance: 140 km
Notice:
*Prices are per vehicle – not per person.
*Price does not include admission charge in the Blue Lagoon
Book your Reykjanes peninsula tour here (http://www NULL.goldencircletaxi NULL.com/book-now/)